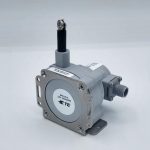 SPD and SR1M Position Transducers
How a Conservation Vent Is Part of Equipment Design
When you're designing industrial storage vessel, it's important to include a conservation vent to minimize the risk of pressure build-up and/or implosion. The external and internal pressure and stress that are imposed through a design is referred to as the tank design pressure. Under normal conditions, the temperature and pressure are sustainable. This term is also used to describe excess pressure that's within the normal limits of 10% to 25% that can be safely added to operating pressure. Let's take a closer look at this topic below.
Utilization of Preset Weights and Springs
In order to incorporate a conservation vent into your tank design, you'll need to review the relevant preset weights and springs. This will allow you to create the tank equipment you need that is fully in line with your needs and specifications, that works properly, and is safe. This is an important part of any design process.
Sizing of a Conservation Vent
Fortunately, there are readily available standards that provide a guideline for sizing any vent. These international sizing standards are conforming to EN ISO and API requirements. If you're unsure about the standard sizing required for your equipment, simply contact I & C Sales North and we can run an sizing calculations based on your flow and pump-in/pump-out rates. Compliance with international sizing standards will ensure that your equipment can be fully utilized across a wide range of markets and industries. During this step of the design process, it's important to review these specifications and make any necessary adjustments before moving onto specification and eventually procurement.
Use of Emergency Vents
In order to decrease the likelihood of a fire forming near or under the equipment that's heating the contents to a boiling point, the use of emergency vents is necessary. You'll want to avoid pool fires, which, unfortunately, aren't uncommon. To decrease the danger that comes with heating, it's advisable to implement and use emergency vents. They help relieve built-up pressure and make a potentially dangerous situation much safer. If you're unfamiliar with emergency vents, you'll want to be up to speed on their uses prior to beginning any heating processes to ensure a safe experience.
If you want more information about equipment design and the importance of including a conservation vent, we're here to help. Give I & C Sales North a call today to learn more about our products and services. We look forward to working with you!